Moderator: Zora
by
John Failman

on 15 Dec 2011, 11:29
Joined: 21 Jul 2010, 08:36
Posts: 167
Location: California Bro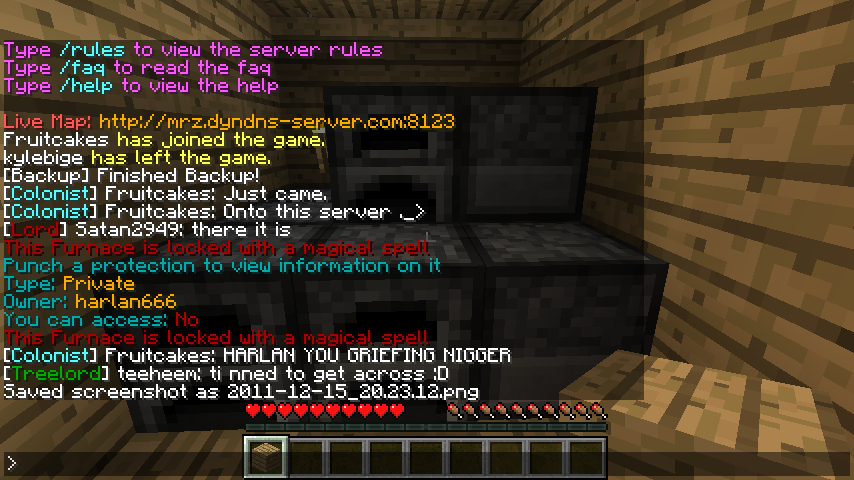 That griefing faggot.
BTW: My chests are in that pile of shit.
by
spleenter

on 16 Dec 2011, 01:57
Joined: 15 Apr 2010, 07:24
Posts: 860
Location: Port Charlotte, FL
I will look past the extreme racism for a moment...

Zora has been offline for some time now and i cannot log onto the server because i do not have my normal computer and my laptop overheats to an unsafe level if i try to run minecraft.
Think of me what you will, I don't give a crap what you think about me. Nor will i change to please you.
by
PhrozenFlame

on 16 Dec 2011, 03:52
Joined: 13 May 2009, 07:04
Posts: 2306
Location: Desoto, TX
Life is whatever.
by
Zora

on 19 Dec 2011, 08:50
Joined: 25 Aug 2010, 03:04
Posts: 226
Are the furnaces still there?
by
John Failman

on 23 Dec 2011, 10:52
Joined: 21 Jul 2010, 08:36
Posts: 167
Location: California Bro
So when protections got reset. I got everything of mine from the said chest, EVERYTHING, stolen.
At least the damn furnaces are gone. So are my iron tools and stacks of wood.
Who is online
Users browsing this forum: No registered users and 1 guest
You cannot post new topics in this forum
You cannot reply to topics in this forum
You cannot edit your posts in this forum
You cannot delete your posts in this forum
You cannot post attachments in this forum